If you are bored with your current bedroom and feel like redecorating, you came to the right place.
Retro bedrooms are very trendy nowadays, as people recreate vintage designs but with a modern touch. In this article, we gathered what we think are the best 20 retro bedroom ideas that will definitely inspire you.
Bohemian Vibe 
If you think about a bedroom with a bohemian vibe, you will often picture a room full of colorful items and bright colored walls.
That is indeed the most common bohemian design out there.
But, as the bohemian spirit is more about soul freedom and harmony in life, you can easily have a bohemian design in a minimalistic way, only focusing on vintage neutral colors.
This will add a bohemian touch to your bedroom, minimalistic, yet very beautiful and creating a peaceful vibe.
Pastel Colors 
https://www.thesleepjudge.com/
Along with neutral colors, pastel colors are vintage colors that are perfect for retro bedrooms.
They are able to bring light and color to your bedroom and therefore create a very serene and restful ambiance.
Pastel pink and blue especially can never go wrong together and will allow you to create a beautiful contrast.
Pastel Blue 
https://www.thesleepjudge.com/
You can still opt for a monochromatic bedroom and use the different shades of only one color if you have a hard time choosing your pastel colors combination.
You might be surprised by the numerous shades a color has and how they will amazingly blend together, making your retro bedroom look really good. We recommend using blue as we think it is the most soothing color for a calm atmosphere.
Pastel Patterns
https://www.thesleepjudge.com/
You can also choose a patterned wallpaper for your retro bedroom using pastel colors.
This makes it very easy to pick your other furniture as your wall brings enough color into the bedroom.
You can even DIY your wallpaper and paint it yourself.
Pastel Sheets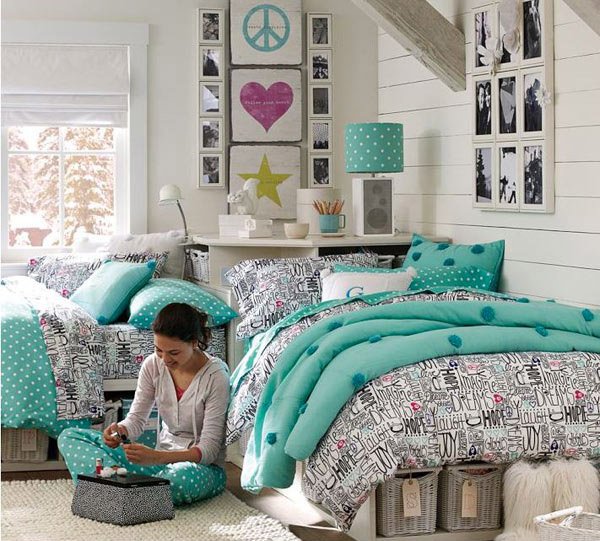 Or, you can simply opt for white walls with white furniture, and only add some pastel color to your sheets. Again, pastel blue is our favorite.
Race Fan
https://www.thesleepjudge.com/
Apart from the colors, you can also have a retro-themed bedroom, depending on what you are a fan of. If you like racing, then this room will totally inspire you.
Science Nerd
https://www.thesleepjudge.com/
If you love science, a science-themed bedroom will definitely reflect your interest and give you a comfortable and inspiring atmosphere to study, as well as relax.
Melomaniac Bedroom
As teenagers, we had the perfect retro bedrooms as we all loved hanging posters reflecting our interests. And if you are a melomaniac, you know that your bedroom has to reflect your enthusiasm for music and look like this.
Hippie Touch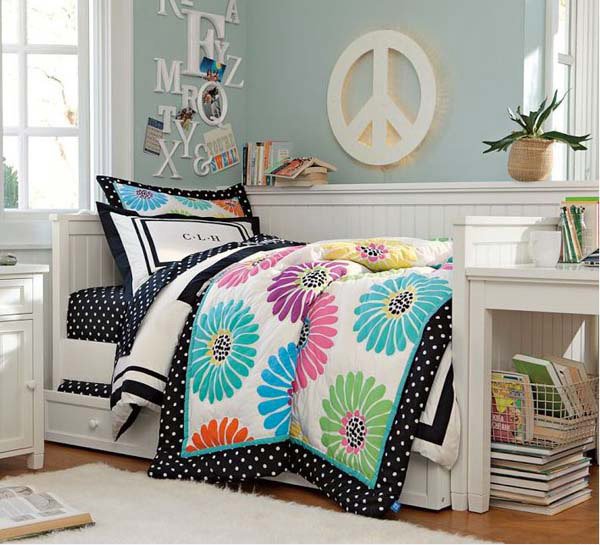 You don't have to use lots of colors in your bedroom in order to have a hippie theme. As you can see, a peace sign and colorful flowery sheets are largely enough!
Flowers, flowers!
https://www.thesleepjudge.com/
And what is better than flowers, if it is not more flowers? Your retro bedroom can look really good with only a frame composition of flowers' pictures and flowery sheets.
If you are into art, think about using some Van Gogh's sunflowers' prints, they will look awesome.
Brownish Bedroom 
https://www.thesleepjudge.com/
Brown shades are vintage colors that look very classy, especially when combined with some plants. Your retro bedroom will look more elegant than ever, with ever little effort (Except for taking care of the plants, of course)
Natural vibe
Using lighter shades of brown will make your retro bedroom more joyful, and create a very cozy atmosphere, especially combined with big plants (preferably plants that will help you breath better and enhance your sleep)
Sunny Bedroom 
https://www.thesleepjudge.com/
Whether yellow is your favorite color or not, a retro bedroom based on this color will, without a doubt, make you smile.
This color's warmness can only bring bright thoughts and sunny feelings.
Girly Pink
https://www.thesleepjudge.com/
Pink is also a color to consider in order to create a perfectly girly retro bedroom.
In this picture, they used a pale pink to have a soothing vibe.
Pink and Yellow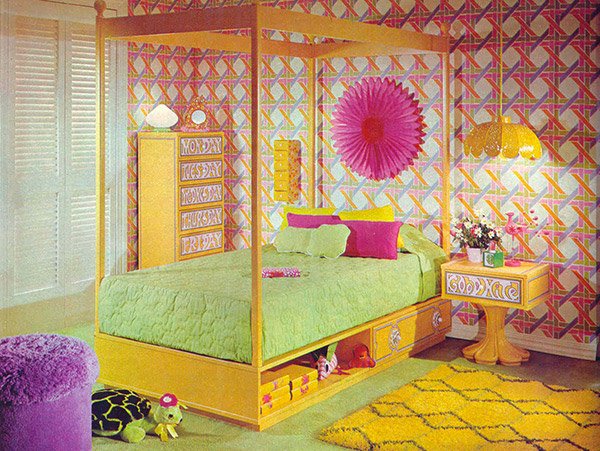 For a happier bedroom, bright pink will do. We love pink as it can be combined with almost any color. Our suggestion here is to combine it with yellow, as it will make your retro bedroom even more joyous.
Pink and Orange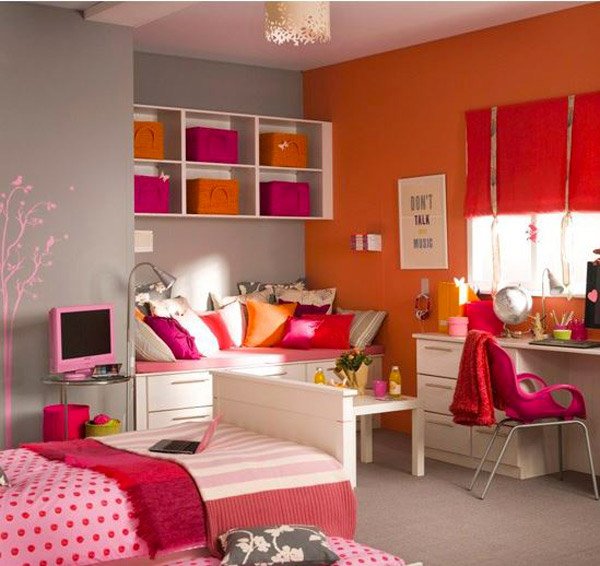 Bright pink and orange combination is really underrated as they are so close on the color wheel, yet this retro bedroom will make this color combination your new favorite.
Psychedelic Bedroom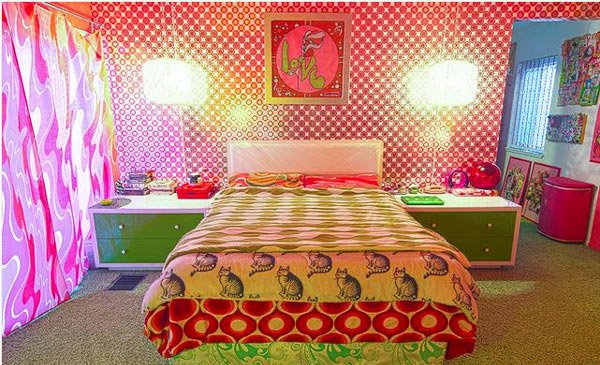 A psychedelic retro bedroom reflects an artistic and creative mind and is all about colors!
The mixture of colors is eclectic and will add a trippy touch to your bedroom.
Just take a look at this bedroom and get inspired; it is absolutely a work of art!
And finally, if your intention is to recreate a retro bedroom from a specific era, here are some pictures pointing out the major elements you need to have.
60' bedroom
70' bedroom
80' bedroom