Having a vintage home decor is the best decision you can ever make.
It means that you will have a unique decoration and one-of-a-kind items. We honestly find pure joy and pleasure in bringing old stuff back to life
as it is a way to add our own unique touch to our home decor and create an antique and nostalgic atmosphere in our living spaces.
Of course, we are in no position to be against home furnishing chains; they make really good stuff.
We just like our home to be distinguished and have original and authentic stuff.
After all, we do agree a lot with Phoebe (from Friends) saying that it is "all mass-produced and everyone winds up having the same stuff."
Vintage home decor is all about reflecting your creative and charming personality.
Not to mention that it will also cost you way less than new stuff, as most of them are based on recycling old things or purchases you can make at a flea market for a low price.
If you share our opinion, what are you waiting for then?
Go to the closest flea market and look for quality items that suit your taste and that you think can be used for decoration.
They don't have to be in good condition already, as they can make an excellent DIY project where you can customize them to your own taste.
One thing you should know is that you have to think differently to have vintage home decor.
We all agree that everyone has its own way to make things and add their unique flavor to it, but unfortunately, we find ourselves resisting this creativity and underestimating ourselves.
Even though the inspiration might be the same, the result will never be. And the good thing about vintage decor is that you are the only one allowed to judge whether it looks good or not.
So, you should not be afraid to experiment and free your creativity to make something amazing out of it. Having a source of inspiration is a necessity at first, which is why we are here.
We are going to share our passion for vintage decor and introduce you to 15 vintage home decor ideas that we think are the best and most amazing ones!
They will absolutely look good wherever you decide to put them, and will totally change the vibe of the space, making it fresher and more original.
We simply adore how unique and unusual they are and how easy and effortless it is to make them.
Pallet Shelf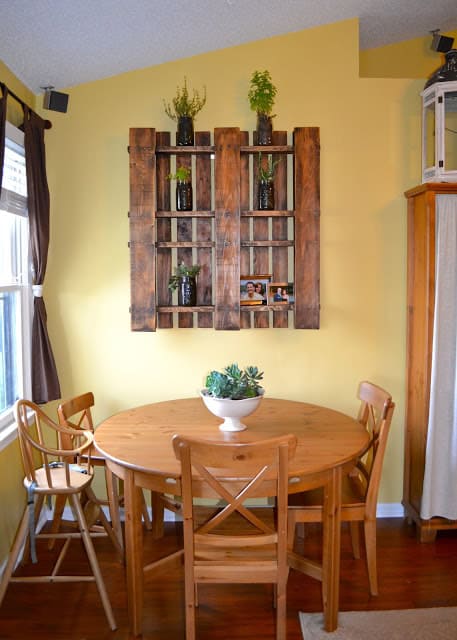 https://www.architectureartdesigns.com/
Our first idea is a DIY pallet wood project. If you are into DIYs, you probably know how viral these projects are, as pallets make fantastic indoor as well as outdoor home projects.
There are just so many things you can turn a pallet into.
So, think twice before deciding to throw your pallet next time. If you already have wooden furniture in your living room, this pallet shelf would be an amazing addition to it.
You can simply use an old pallet and varnish it.
If you are into woodworking, and have some leftover wooden slats, you can use them to make a new one and customize your design.
But the idea remains the same, using the pallet as a shelf. You can either hang family pictures on it or display any other decor items you have.
In the picture, they chose to make it a jar plants' shelf, which is an amazing idea, as you can also use vintage jars for that.
Multi-purpose Jars
Talking about vintage jars brings us to our next idea, which is multi-purpose vintage jars.
This idea comes from the Little Vintage Nest, who we think has really awesome vintage decor ideas, very easy and practical
For instance, in this one, she was looking for a big vintage jar to use in her bathroom. And, instead of buying a new one, she decided to use the one in the picture, that once belonged to her family.
This jar was used for flour storage by her grandmother and used as a cookie jar by her mother. And now, she is using it to hold soap.
Jars will always serve their purpose no matter how old they are (unless they are broken, obviously), and using an old one will definitely add a beautiful vintage touch to the space.
So, call your mom and ask her for jars she is not using anymore. And, whenever you come across a beautiful jar at the flea market
don't hesitate to buy it. Don't even be afraid to have different jars that look nothing alike; this will only make them stand out more.
Antique Hanging Rope Shelf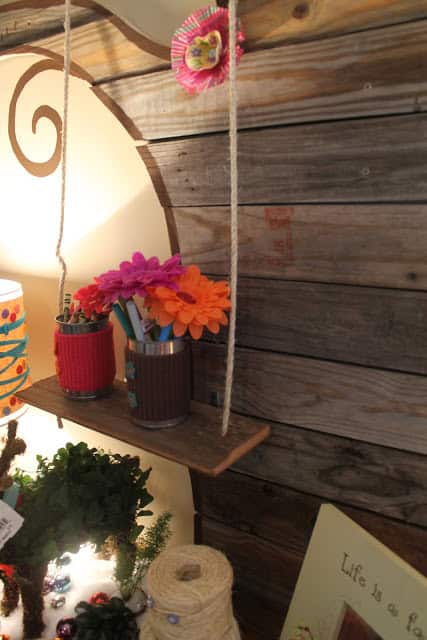 https://www.architectureartdesigns.com/
Vintage wood is such a beautiful material. Some people even decide to stain their new wood to give it an antique look.
It is, without a doubt, the perfect material for us, vintage lovers, as it is recyclable and really easy to customize.
This idea consists of using leftover wooden slats, and turn them into simple antique wooden shelves.
As you can see, you only need a wooden slat and some rope. You just have to dig a hole at both ends of the slat and attach a rope to it.
The next thing is to look for a solid surface to attach the ropes to, in order to prevent them from falling.
We also recommend not putting too much weight on it, something as lightweight as small plant pots is perfect unless you decide to attach the slat to your wall, of course, which will allow it to support much more weight.
Antique Wooden Shelves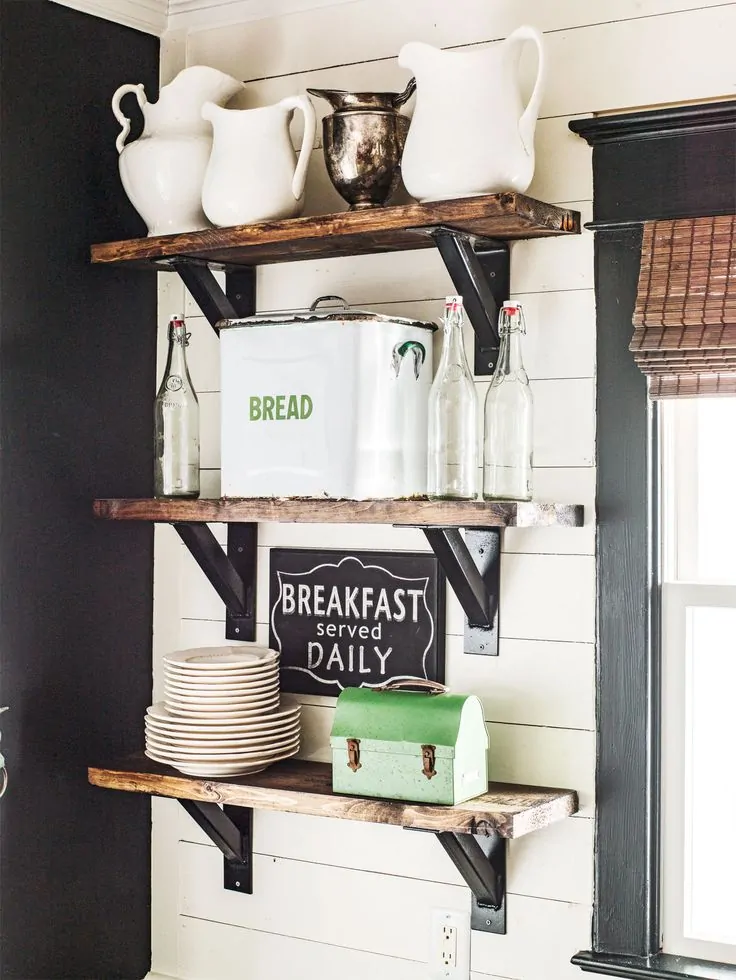 Another shelving project similar to the previous one is making antique wooden shelves.
No old wooden slats should go to waste! This time, we are using brackets to support the vintage wooden slats as they are supposed to be more functional than decorative and therefore support much more weight.
These shelves can be used in any room of the house, as open shelves, in general, are very useful, keeping items organized and neat.
You can either use them in your living room and display your vintage decors on them.
Or, you can put them in your kitchen and turn them into open antique kitchen shelves, which is very practical as it will make everything easier to grab and add a distinctive touch to your kitchen.
You can even use them as bookshelves and enhance your bedroom shelving to maximize space. The possibilities are countless; it is all up to you!
Wooden Table 1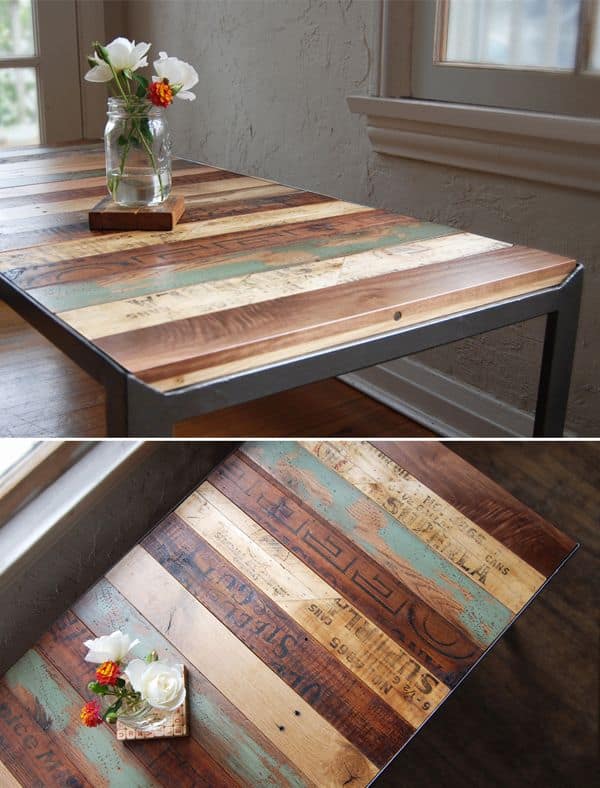 https://www.architectureartdesigns.com/
Unique vintage wooden tables can look really good indoors as well as outdoors.
Since a table takes a big part of the home decor in general, you can completely change the overall vibe of the space, changing only this decor element.
If you find an old table in good condition at a flea market, then it is your lucky day.
You just have to apply some changes to it, such as varnishing, to give it a brand-new life, and you are good to go.
If you come across one that is in poor condition for a fair price, consider buying it too, as you can still use its wooden or metal base to make a new one.
On the other hand, if you are into woodworking, you know that you only need some old wood slats to make your own.
The table you see in the picture, for instance, is made of different wood slats, picked up here and there, making it unique in the whole world. If you have smaller wood slats, consider making a side table.
Wooden table 2
There is not a unique and only way to have a vintage table. You can use different materials, different shapes, and different color shades.
In this picture, they opted for a rounded wooden table. We can clearly see that the base and the top have different wood types with varying tones of wood and textures, which resulted in an unusual table yet so pretty.
If you have a vintage item that takes the majority of the space, it is better to surround it with neutral colors in order to keep a sophisticated and peaceful atmosphere.
This is our personal opinion, though; some people think that neutral colors are boring and are fond of colored items, as they can bring a brighter and more joyful touch to the space. After all, there is no accounting for taste.
Farm House Fence 
https://www.architectureartdesigns.com/
I bet you never considered turning a piece of an old farmhouse fence into this fantastic and unique piece of decoration.
You should not even be wondering what you can do with such an old piece of wood, as the possibilities are endless!
You can hang a welcome sign on and place it next to your entrance door. You can use it as a big frame and put different pictures on it.
You can hang a vintage clock on it and lean it on your antique shelf or cabinet to complete your vintage set. Feel free to explore more ideas as you are the only one who knows what's going to suit best your home decor.
Don't worry about the fact that this might look unusual and unexpected, as it will only make it more exceptional. Again, having a vintage decor is all about exploring the strangest ideas that will result in exceptional and unique pieces, reflecting your sense of creativity.
Vintage Wine Cabinet
https://www.architectureartdesigns.com
If you have a good eye for vintage items, you will never miss the chance to buy a cheap vintage dresser or reuse an old one.
Even if it is missing some drawers or have no drawers at all, it can still turn to be useful. And yes, dressers are not only for bedrooms; they can be used in the most unconventional ways and still look awesome.
You should know that dressers' DIYs are the easiest and can hardly go wrong.
How to use an old dresser and what to turn it into depends on what suits your taste.
We can easily imagine an old dresser turn into a bookcase, a storage cabinet for random stuff, a kitchen cabinet, etc.
In this picture, for instance, they only had to make a few changes and add small details to completely repurpose the dresser and turn it into a wine cabinet, and the result is just amazing!
 Embroidery Hoops Wall Decor
Embroidery hoops walls are one of the simplest and most inexpensive vintage home decor ideas.
The embroidery hoops themselves give away a vintage touch, and you get to pick what fabrics and patterns will suit the rest of your furniture.
If your mom or grandmother are into embroidery, you can use her works to redecorate your wall, as adding this personal touch will only make it more charming.
Whether they have the same sizes or not, whether they are placed randomly or following a pattern, you can allow yourself to be as free as you wish with the hoops composition and still be sure they will look good.
In our inspiration picture, we can see that the embroidery hoops are giving away a very flowery feminine touch, and using the same fabric as the pillows' is a clever idea to create more visual and color harmony into the living space.
 Porcelain Wall Décor
Another easy idea that joins the embroidery hoops is to create an outstanding wall decor only by hanging porcelain plates.
Porcelain plates are already rich in details and colors and are simply little pieces of art, especially fancy old ones that were only destined for guests.
So, if you have an old family porcelain set that never leaves your kitchen storage, you should consider giving it new breath and show it off.
This picture is such an incredible example of porcelain plates' use for decoration to create a vintage look; they complete many other vintage items around and are placed on an old wooden door that makes them stand out even more.
Thank you, Finding Home Farms, for the idea, we adore it!
 Vintage Hooks
https://www.architectureartdesigns.com/
Vintage home decor is all about giving attention to the tiniest details, meaning that even the smallest item in your space should be picked carefully to have a complete vintage look.
Repurposing items works perfectly for small items. Before thinking about getting rid of any item, look for ideas and inspiration around or use your own imagination to think about ways of repurposing it and reusing it as something else.
For instance, old hangers should never be thrown away, especially wooden ones.
Hanging them on a wall upside down can easily turn them into hooks for anything.
For towels in your bathroom. For coats next to your entrance door. For lightweight blankets in your bedroom, and much more.
If this tells us anything, it is that we should always think twice before throwing anything, because as long as our imagination has no limits, we can use them to create the perfect vintage home decor with our own ideas and own innovation.
Hanging Towel Storage Basket
https://www.architectureartdesigns.com/
Another genius repurposing idea is using this old basket as a storage basket. Not anywhere, but in your the bathroom, where you are expecting to see it the least.
Okay, we get that having a hanging basket in your bathroom to store your towels is unexpected.
But we can't repeat it enough; vintage home decor should be original!
This one is actually one of our favorite ideas ever, as it is also very practical to maximize your bathroom space if you struggle with a small one.
A similar basket can also be used in the kitchen to organize your dishcloths and keep your kitchen looking neat. Or it can even be hung in the living room and used to store random items.
It can also serve as a decorative frame for family pictures if you want to be more creative.
If you would rather not hang the basket, you can still use it to store blankets, or even as a planter basket for your indoor plants. Why get rid of anything if it might come in handy someday?
 Suit Case Shelves
https://www.architectureartdesigns.com

Using old suitcases to create shelves is a one-of-a-kind idea, and we are crazy about the result! Whoever came with this creation is absolutely a genius.
Whether you already have old suitcases you are not using anymore or came across a nice collection of vintage suitcases for a reasonable price; you can make these awesome shelves only by cutting each suitcase in half (or less depending on the suitcase dimensions) and hanging them on your wall.
What is even cooler with this idea is that you can share the leftover parts with a friend who can use them to have a similar decoration but making his own composition.
So, if you are looking for an easy and simple idea to give a strange and creative touch to your living space, you are served!
 Vinyl Record Side Table
https://www.trendir.com/vintage-decor-ideas/ 
If you are a melomaniac and love music, this idea is going to be your favorite. Adding a vintage touch that reflects your interest is the best thing.
Old vinyl records are actually worth a lot of money. But, unless you have the intention to collect them, you have no reason to spend that much money on them.
For this DIY, you can use an old vinyl record that is not working anymore.
If you have one already, then great! If you don't, many old vinyl records in lousy condition are available online and should not cost you a lot.
This idea is so original; it consists of turning your vinyl record into a side table. You can even recycle an old table and use its base, or ask a carpenter or a blacksmith for a new one.
Easy, inexpensive, and impressive in so many ways!
 Vintage Outdoor Bench
Old cribs also make amazing objects for DIY projects, especially baby cribs.
If your kids are all grown-ups now and their old cribs are taking too much storage space, it is time to repurpose them and turn them into something new.
You can actually turn old cribs into different vintage looking items, but we are going to focus on the idea of making this super cute bench.
All you need is your old crib and some cushions to have such an outstanding result.
Not only is this idea effortless and won't cost you a penny, but it is also such a practical and useful addition to your outdoor.
It will also create a vintage and antique vibe in your balcony or patio.
Tada! Our article has come to an end, and these were our favorite ideas about creating a vintage home decor in the simplest and most inexpensive ways.
We hope you enjoyed them as much as we did, and that they will be an efficient inspiration source for your next vintage home decors ideas.
We only have to warn you about one more little thing: not all of the old items you find at a flea market are worth it.
Vintage is actually about having a good taste and a good eye for quality items that you can revive and repurpose.
As there is a very fine line between worthy items and junk, you should be very picky and avoid wasting money on items that will end in the trash.
Apart from this little detail, go for it! Free your imagination, think differently and create your own vintage home decor that will make your house a comfortable and cozy place you will never want to leave.
Don't hesitate to share your ideas with us, too, so our readers and we can get inspired as well.